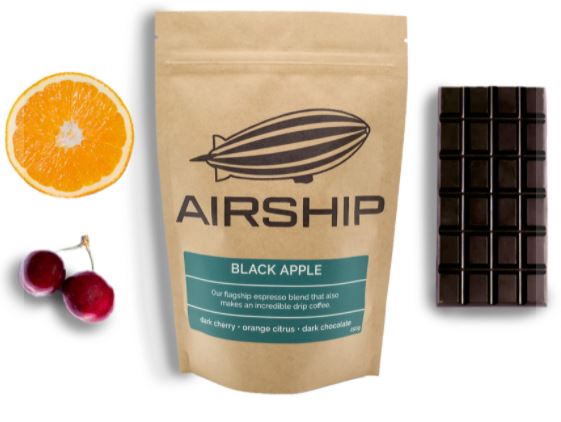 BLACK APPLE ESPRESSO

MEMBERS ONLY PRICING
One Time $20.99
Twice per Month $18.99
Weekly $16.99

Coffee Type:  Whole Bean

Tasting Notes: Black Cherry - Dark Chocolate - Juicy Orange 
Blend Components: This is a three-part blend composed of a semi-washed coffee from El Salvador, a honey processed coffee from Sumatra, and a sun-dried natural from Ethiopia. This combination makes for a juicy, sweet, complex, balanced espresso on its own, or the perfect base for a cortado.
Airship's flagship espresso blend is named after the award winning Arkansas Black Apple. The apple variety was discovered in the 1870s in the Brathwaite orchard along Black Apple Creek just about a mile north of Airship's coffee bar in downtown Bentonville. It was propagated in the Brathwaite nursery, then commercialized and went on to win first place at an exhibition in Paris France in 1900 and then in 1904, took first place at the World's Fair in St. Louis. By 1919 Northwest Arkansas was producing more than 5 million bushels of apples per year and the industry was the largest employer in the region. But Southern Apple Mania, as it was called, didn't last long. Due to pressures from insect pests, namely the Coddling Moth, by the 1940s the majority of apple orchards had moved to different areas of the country.
Important: Prior to the purchase of any coffee, an Airship or Ozark Compost & Swap partnership canister must be purchased. This will be required for first time purchases and refills. The canister purchase does not apply to customers who already own an Airship or Ozark Compost & Swap canister.

Delivery of coffee will occur on the day of compost pickup.

500 grams of coffee beans
Product description and image from AIRSHIP - used with permission.
Regular price
$20.99 per Delivery
Regular price
per Delivery
Sale price
$20.99 per Delivery
Sale
Sold out
Healthy Soils
Castings provide nutrient rich organic matter, along with bountiful microbiology that constantly provides plants the exact nutrients required to thrive.
Healthy Plants
Because the microbiology provides plants with the exact nutrients it needs, we can expect much higher yields in our plants and gardens with no chemical additions. The microbiology also helps fight pathogens and disease.
Carbon Sequestration
Living soils provide proper storage for carbon within our atmosphere. When plants pull in carbon dioxide a portion goes down through the roots, where the microbiology properly stores that carbon dioxide.